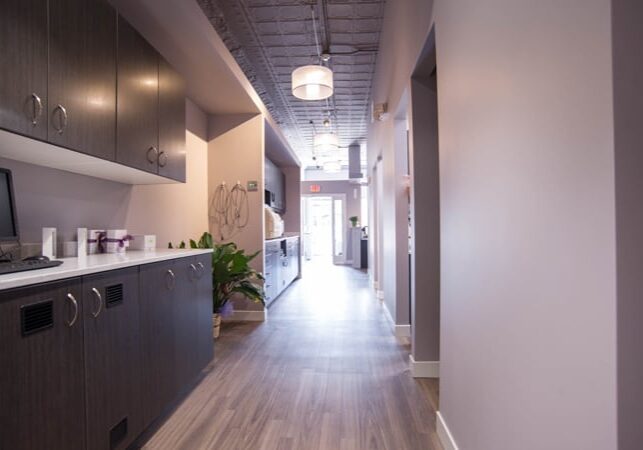 Medical office construction has changed a lot since we first founded Apex Design Build. As such, modern medical office construction practices are ripe with unique innovations that just wouldn't have been possible decades ago. Current changes in labor, workflow, design, and culture have all changed the way we think about medical office construction. These new shifts in the status quo have challenged the ways in which we develop, design, and manage healthcare facilities. For example, hospitals now employ more than half of all doctors and surgeons, with numbers continuing to increase. Architects and providers, as well as developers, have had to alter their way of thinking to support the multispecialty of contemporary hospitals and medical offices. Equally, modern medical office construction reflects these changes. In this article, we look at the many innovations modern medical office construction has brought about.
Integrated Technologies for Your Medical Office
Modern medical offices have come to rely on a collaborative care system, with patient-centered medical homes, among other things. Namely, practical technological integrations, which can make patient experience better and physicians' jobs more efficient. Technologies like desktop computer systems, electronic medical records, wireless networking, are all great examples. In fact, we believe multispecialty medical office buildings require design that optimizes technology for employees while supporting patient needs. Your medical office should have the best of both worlds, if not all of them.
When drawing up your medical office construction plans, we will take into account the features you require, while offering suggestions for additional facilities you may find useful. Similarly, materials, windows, walls, these things are all important but should be selected carefully. Like any integrated technologies, they should enhance the connectivity and functionality of your medical office, not hinder them.
Ease of Motion and Modularity
Your medical office is its own organism, each piece relying on and supporting others to function properly. If one piece fails, it can compromise the entire system. For your medical office, we at Apex Design Build always ensure that modularity and mobility are essential components for your workspace. When planning and constructing the building or office, we find that the best current medical offices have multifunctional exam rooms. Instead of limiting your workspaces to just one specific function, why not make them suitable for multiple uses? This can aid efficiency as well as patient experience in your office. Furthermore, your furnishings should also direct patient traffic with ease.
Think about how you place your furniture, how corridors flow. Is there only one path leading back to the waiting room for both in-patients and out-patients? Or do you require a one-way traffic system that guides patients back to reception while avoiding cramped hallways? Your equipment can also help with ease of motion, such as having certain pieces on wheels, which facilitates and encourages movement.
Green Construction for Your Medical Office
Most Contemporary Medical Office Construction involves some aspect of greenness. At Apex, we source the best materials for your needs that are also safe for the planet. Using green principles of construction, we also aim to save you time and effort, while delivering your custom medical office. Moreover, green construction practices and materials for your medical office will minimize your carbon footprint.
At Apex Design Build, we are always on the lookout for ways to break the mold. We make it our mission to innovate and improve standard medical office construction. We use cutting-edge green construction techniques in our work, with the aim of creating your perfect medical office. At Apex, we are leading the medical office construction and design revolution. Contact us now so that you can join us.