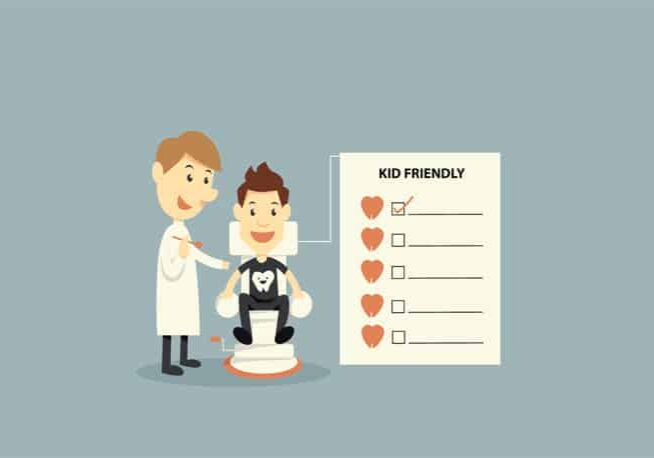 Cereal companies know that while kids are easy to please (just add sugar and artificial colors), their mothers are the real decision-makers. You have to appeal to the one, but cater to the other. When planning a pediatric dentist office redesign, the same theory applies. Today's pediatric dental offices balance what moms like and what kids want with clean, modern designs that are fun – and sophisticated. Here are 5 ideas on how to achieve that balance yourself.
What Kids Want and Moms Need
First: A safe play area out of the path of traffic, but in easy sight of seating areas. This could involve a kid-height table with crayons and coloring books, a reading nook with bean bag chairs, a lego area, or even X-Box stations. Most importantly, make sure Mom and Dad can see their child at all times from any seat in the room.
Second: A TV screen. Sometimes it seems like nothing will mellow out an anxious child – until you plop them in front of a television. Even the most virtuous parents tend to acknowledge that a TV can be very useful. Here's an idea: Don't just install a television in the waiting area; try putting one in the operatory to distract children while you work.
Third: Handwashing station or convenient bathroom. Whenever you have dozens of children in the same space, germs aren't far behind. Parents will appreciate conveniently placed hand sanitizers, wash stations and bathrooms. Incidentally, studies have shown that automatic paper towel dispensers are the most hygienic way to dry hands, as opposed to blow-dryers or reusable towels.
Fourth: Mom needs coffee, or at least some nice soothing tea, while she waits. Ply her with a little quiet time and caffeine, and she'll sing your praises at the next school parents' night. Is it bribery? Maybe.
Fifth: Don't dumb down your dental office design. Your dental office doesn't need to look like a Disney's Toontown set to appeal to kids. In fact, you don't need a single cartoon character, and some designers may argue that you shouldn't theme your office at all. Here's the theory: Kids grow up fast, and if you want to capture years of repeat business (there are still 30-year olds who see the same dentist they saw when they were 8), you can't afford to alienate them. No 30-year-old, or even 13-year old, wants to come to a dental office that looks like a preschool classroom.