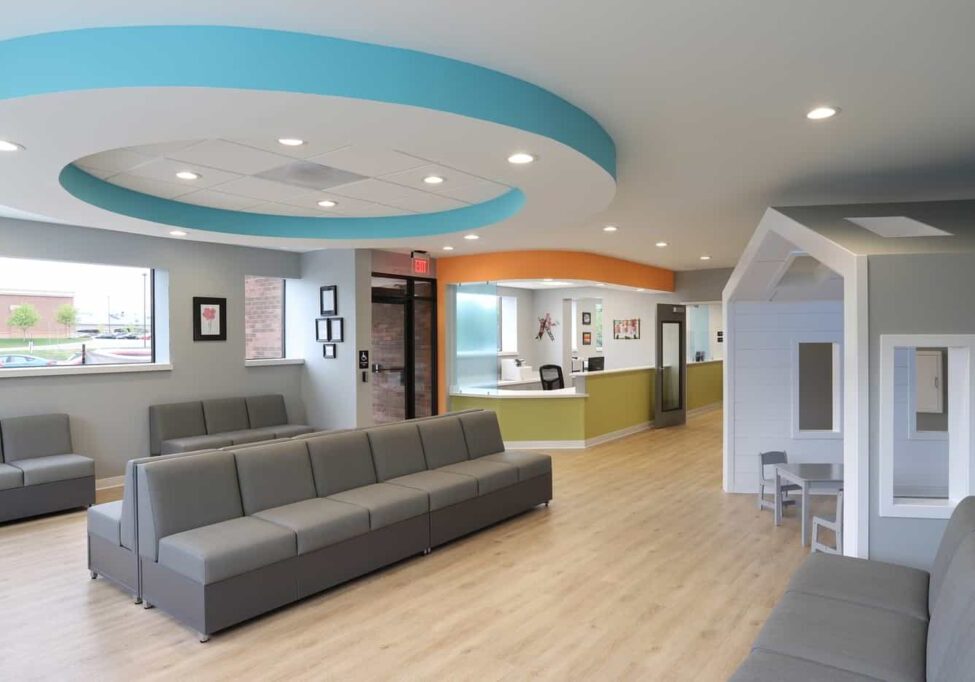 What if kids couldn't wait to go to the dentist?
Yes, it is possible to…with a themed space! From the moment children walk through the door of your pediatric dental office, they will be enamored by the fairytale adventure you're taking them on. When presented with the opportunity to play, kids drop everything and dive right into their imaginary world.
Of course, as a dentist, you shouldn't forget your role in putting your patients at ease. This is where pediatric dental office design comes in.
That being said, if you're looking to remodel your dental office, here are some family-friendly design ideas to keep in mind.
1. Safety First
A kid's idea of a fun dental office could be one that has many toys and video game systems, etc., and it's awesome if your office has a lot of these items. You can't forget, however, that your clinic also has to appeal to parents.
That means if you plan on setting up a play area, you should make sure it's childproof, out of the path of traffic, and can be easily monitored by parents. It's also a good idea to provide enough space that allows kids to move around. This way, they can burn off all that nervous energy before they come back to the dental chair.
2. Patients With Special Needs
Some children have sensory issues that may prevent them from feeling comfortable in new environments. For pediatric patients with special needs, there are certain things you can do to help them be more comfortable.
These include treatment room distractions, wall coverings that help mute sounds, wheelchair-accessible dental chairs, and so on.
3. Embrace Color for Your Pediatric Dental Office
With more and more dental offices that cater to adults, you'll notice that the overall design tends to be more laid-back, reminiscent of a relaxing spa than a traditional dental office.
The great thing about pediatric practices is you can be as creative as you want. Think colorful, bright, whimsical, and playful. Of course, it helps to know some dental office themes that are kid-centric, for example, jungle adventure, space exploration, and so on.
Once you've decided on a theme, you can work with a designer who can guide you with choosing the best office design.
4. Keep the Parents Happy
It's wonderful if your pediatric patients love your office, but remember, they don't have the power to influence others to come and see you. On the other hand, parents can.
That's why you must do your best to keep them content and comfortable while they're in your office. Fortunate for you, there are easy ways to accomplish that.
Offering Wi-Fi, snack and beverage stations, iPad bars, etc. are all excellent ideas. You will also need to think about cozy seating and good lighting for those who will want to do some work while in the waiting room.
Ready to Redesign Your Pediatric Dental Office?
Now that you have some pediatric dental office design ideas, don't forget about selecting the right partner.
Lucky for you, we can help. Contact us today so we can start planning your dream dental office and bring it to life.
Apex Design Build
Apex is a well-respected design build firm based in Chicago which has earned a stellar reputation for providing state of the art healthcare facility design and construction over four generations. Apex delivers modern healthcare and veterinary hospital projects that reflect the unique style and personality of individual practice owners.
Apex Design Build can take your vision of the ideal healthcare facility and bring it to life. Let's work together to get started on the exciting adventure of designing your healthcare office.